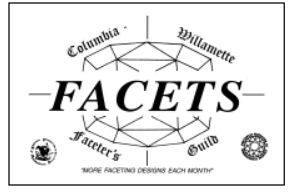 Classes are finished for this year.
The Columbia Willamette Faceters Guild has released its schedule of classes for Beginning Gemstone Faceting at the Rice Northwest Museum of Rocks and Minerals for the 2013-2014 year. If you would like information on these and future classes, please contact them directly, not the museum.
Participants and students are introduced to the theory and techniques of faceting gemstones. During the course, students will facet one or two gemstones with material and equipment provided by the Faceter's Guild. Students gain sufficient knowledge to continue faceting on their own.
The classes are held in the Rice NW Museum's Faceting Lab. The classes offer 20 hours of instruction across 5 classes from 1PM to 5PM.
You have a choice of a 5 week class schedule on Saturdays or a 3 week class schedule of 3 Saturdays and 2 Sundays.
Class fees are $135.00 per person.
First session: September 14, 21, 28 – October 5, 12, 2013
Second session: October 26, 27 – November 2, 3, 9, 2013
Third session: Nov. 23, Dec. 7, 14, 28 – Jan. 4, 2013
Fourth session: Jan. 18, 25 – Feb. 1, 8, 15, 2014
Fifth session: March 1, 2, 8, 9 & 15, 2014
Sixth session: March 29 – April 5, 12, 26, & May 3, 2014
Seventh session: May 17, 18, 31 – June 1, 7, 2014