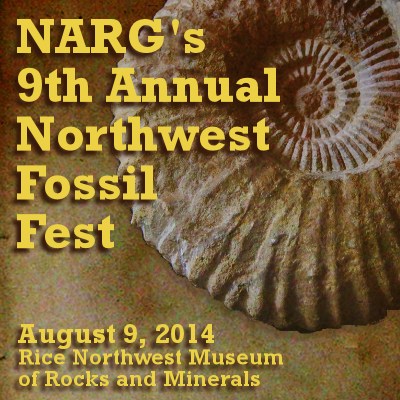 The Northwest Fossil Fest hosted by North American Research Group (NARG) will be at the Rice Northwest Museum of Rocks and Minerals Saturday, August 9, 2014.
The Theme for the 9th Annual Northwest Fossil Fest is Petrified Wood.
The event is free for families to learn about fossils, fossil collecting, preparation, identification, and display. The event includes lectures and demonstrations, including a presentation by acclaimed petrified wood specialist, Walt Wright, followed by an optional 3 day workshop (requires separate registration).
The schedule for the Fossil Fest is:
11:00AM – Fossils of Oregon
1:00PM – Walt Wright's Introductory Lecture on Identifying Petrified Wood
3:00PM – Brad Newport and the Holleywood Ranch on his famous Petrified Wood Collection and its history
This is a great event for families and fossil fans. Attendance for the Fossil Fest includes free admission to the museum.
For more information and registration, see Northwest Fossil Fest.