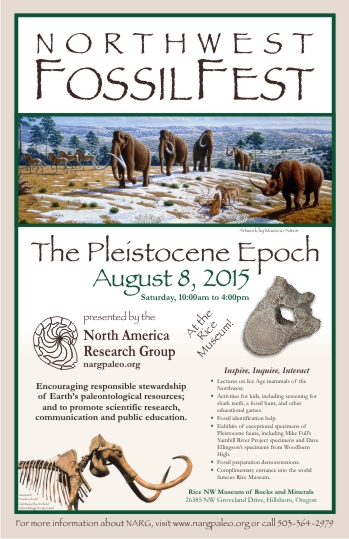 The Northwest Fossil Fest sponsored by the North America Research Group (NARG) will take place at the Rice Northwest Museum of Rocks and Minerals on Saturday, August 8, 2015, from 10 AM to 5 PM.
The Theme for the 10th Annual Northwest Fossil Fest is The Pleistocene Epoch!
The event is free for families to learn about fossils, fossil collecting, preparation, identification, and display. The event includes lectures and demonstrations, including presentations by Mike Full and Dave Ellingson.  Mike will discuss some of his recent important discoveries from the Yamhill River Pleistocene Project and will have some of his Ice Age mammal bone discoveries on display.  Dave, a science teacher at Woodburn High School, will talk about major fossil discoveries from a bog deposit on grounds of the Woodburn Campus.  The Woodburn discoveries are part of the exciting Willamette Valley Pleistocene Project.  The lecture schedule will be published soon.
Paleontologists will be on hand identify fossils and to show kids of all ages how to clean and prepare fossils.  There will be lots of hands on activities and this is a great event for families and fossil fans.  Attendance for the Fossil Fest includes free admission to the museum.
For more information and up-to-the-minute information see Northwest Fossil Fest.
IMPORTANT ROAD CONSTRUCTION ALERT:  Please note that Helvetia Road will be closed August 8, 2015 because of construction.  Please follow our detour instructions and be alert for detour signs to guide you to the Rice Northwest Museum of Rocks and Minerals and the 2015 NW Fossil Fest.