A spectacular new specimen of topaz and smoky quartz crystals is now on exhibit at the Rice Northwest Museum of Rocks and Minerals. This exhibit was recently donated by long-time museum supporters Sharon Meieran and Fred Cirillo.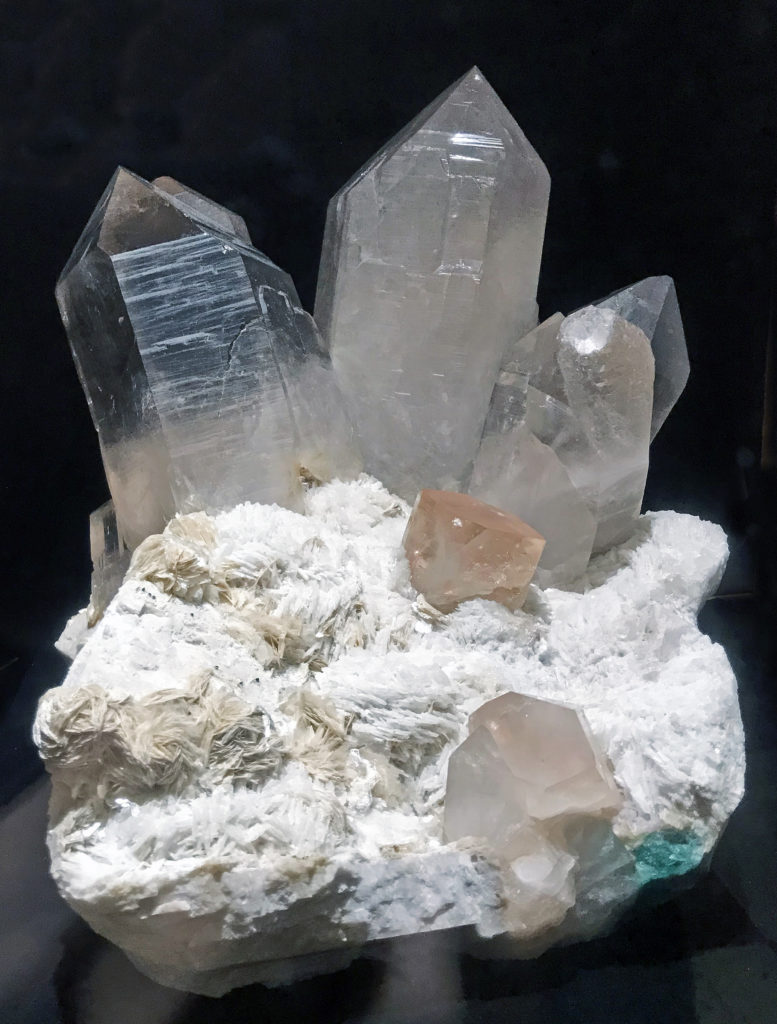 The overall specimen, which stands over 14-inches tall, contains two large sherry-colored topaz crystals in a matrix of white/gray clevelandite (a variety of albite feldspar). Several large smoky quartz crystals tower over the topaz crystals. The minerals were found in the Shigar River Valley in the Himalayan Mountains of Pakistan, an area known the world over as a source of many varieties of gems including tourmaline and aquamarine. Spectacular specimens like this one occur in deposits at elevations of 8,000 to 13,000 feet above sea level. If gem crystals are able to grow into an open cavity as they form, we get these amazing and showy rocks.
One of the reasons we close on Mondays and Tuesdays is so that we can perform case cleaning, maintenance and installation of new exhibits such as this one. We received several other fine mineral donations in the last month. Look for these to be on exhibit in the museum soon.
The topaz being placed in its new home by curator, Julian Gray (L), assisted by Ken Leisten

Following installation, volunteer Angela Pillar helps place the cover on the exhibit.
If you would like to come see the new specimen, Rice Northwest Museum of Rocks and Minerals is open special Holiday Hours this Wednesday-Sunday from 10:00 AM-5:00 PM. Happy holidays from all of us at Rice Northwest Museum!