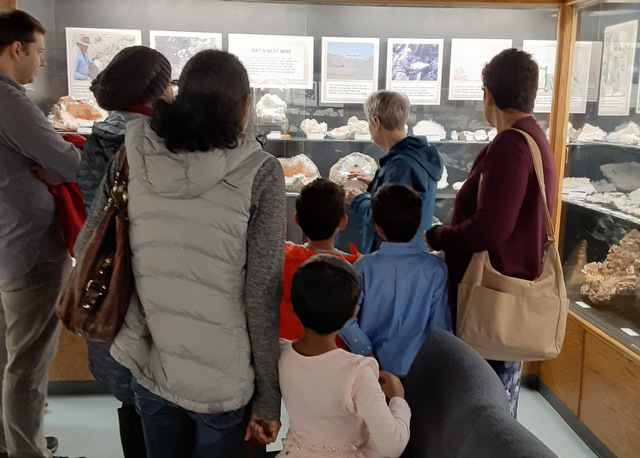 Dear Friends, 
First and foremost, the entire staff of the Rice Museum, and I hope that you, your family, and your friends safe and healthy. Nine weeks ago, we shut our doors to the public. I personally never thought that I would be writing a letter in the middle of a world crisis. Yet, here we are.  As we prepare to once again welcome you again we need your help to make sure that happens. 
Your support of the Rice Museum is critical. As a non-profit organization, we rely on ticket sales, education program fees, gift shop sales, events like Thunder Egg Stravaganza, and donations to survive. With our museum closed almost all sources of income have stopped until we can again function at full capacity. We urgently need financial support.
Since closing our doors on March 15 nearly $175,000 has been lost in revenue so far. That is 34% of our total budget. Priding ourselves on fiscal responsibility we have taken measures to mitigate the loss of income and put the organization in the best position to be able to re-open when it's safe to do so. Some of these measures have been heartbreaking as we cut expenses. Sadly, there are no guarantees it will be enough without support from people like you in our community.
The American Alliance of Museums estimates that as an industry museums are losing 33 million dollars per day due to closures —  that 30% of museums may never reopen — and those that do will be changed institutions at risk of closing within two years. With your help, we won't become one of those statistics. 
Despite the ongoing crisis, our efforts to inspire people of all ages to learn more about earth science and prove meaningful experiences have not diminished since we have been closed. We created a new education campaign "What on Earth?" where we have collected educational resources and activities for kids and families at home. Included in this initiative are our own video activities and lessons, and highlights of our collection. We continue to add new material as the COVID-19 crisis continues. 
The Rice Museum has been a vital resource in our community for decades. The Rice family gifted the Museum to the community with a vision of engaging and inspiring generations about the complexities of our Earth. Built around a world-class collection our educational programs have grown throughout the years and often fill a critical need supporting both public and private education. This current Coronavirus crisis brings to light the need for evolving and relevant science education. We can help by growing our educational programming and broadening our reach through technology, video education, and portable earth science exhibits. For the Museum to survive and thrive in the future, we plan to grow educational offerings, update exhibitions and enhance outside spaces.  We need you — will you help?
Together we can continue to make a difference. The Rice Northwest Museum of Rocks and Minerals is an essential part of the cultural and science education experience for our region. We have established a COVID-19 Relief Fund. Your gift will help close the gap and allow us to reopen. With your help, we will return to be a cultural cornerstone and inspire the next generation of earth scientists. 
Always grateful, 
Garret 
If you are able to help the Rice Museum right now, please consider making an online gift today.