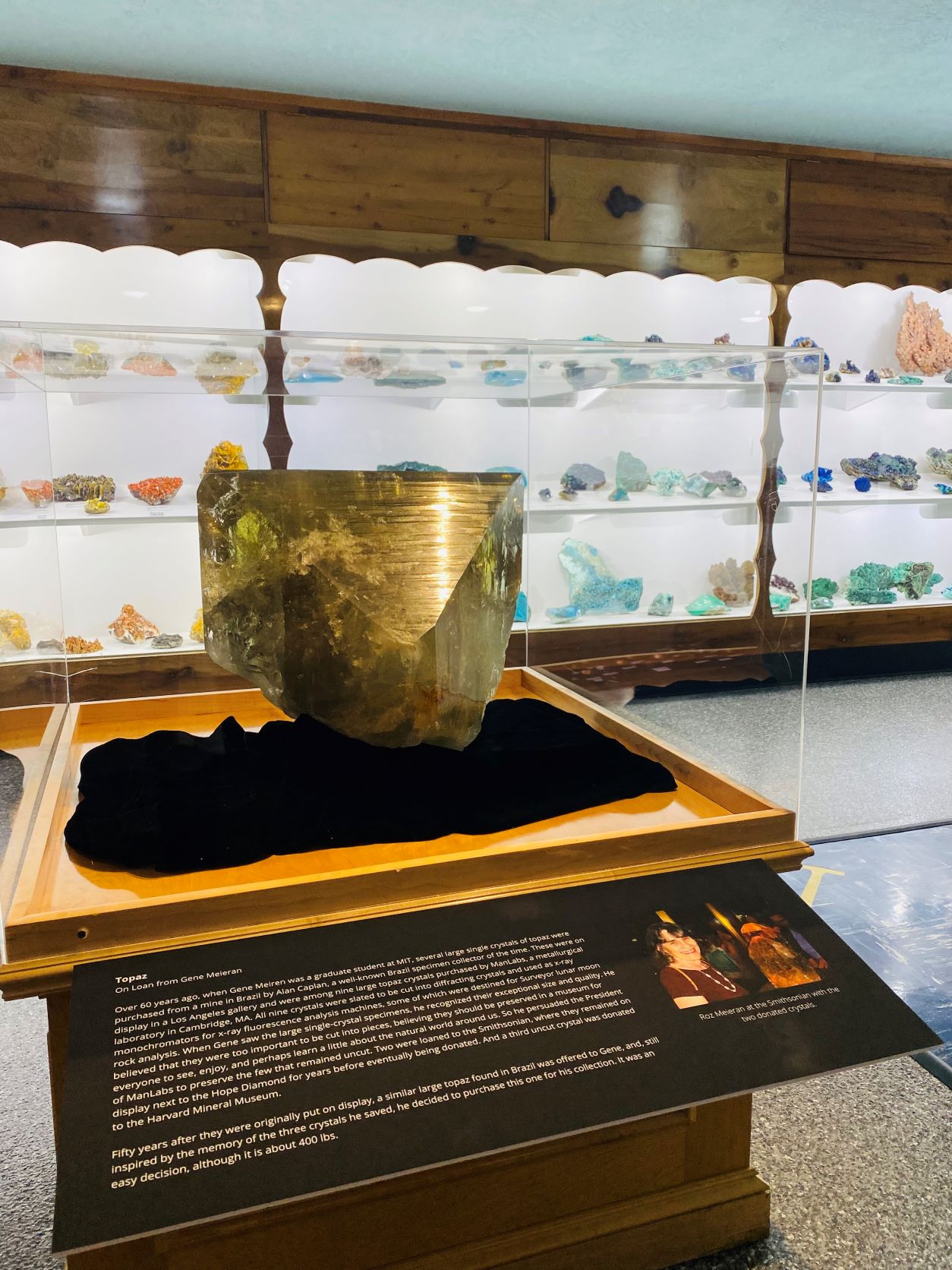 The Rice Museum is excited to announce this incredible topaz specimen will be on on loan from local collector Gene Meieran for one year. 
About the specimen: Over 60 years ago, when Gene Meiren was a graduate student at MIT, several large single crystals of topaz were purchased from a mine in Brazil by Alan Caplan, a well-known Brazil specimen collector of the time. These were on display in a Los Angeles gallery and were among nine large topaz crystals purchased by ManLabs, a metallurgical laboratory in Cambridge, MA. All nine crystals were slated to be cut into diffracting crystals and used as x-ray monochromators for x-ray fluorescence analysis machines, some of which were destined for Surveyor lunar moon rock analysis. When Gene saw the large single-crystal specimens, he recognized their exceptional size and quality. He believed that they were too important to be cut into pieces, believing they should be preserved in a museum for everyone to see, enjoy, and perhaps learn a little about the natural world around us. So he persuaded the President of ManLabs to preserve the few that remained uncut. Two were loaned to the Smithsonian, where they remained on display next to the Hope Diamond for years before eventually being donated. And a third uncut crystal was donated to the Harvard Mineral Museum.
Fifty years after they were originally put on display, a similar large topaz found in Brazil was offered to Gene, and, still inspired by the memory of the three crystals he saved, he decided to purchase this one for his collection. It was an easy decision, although it is about 400 lbs.
About Gene Meieran: Eugene Stuart Meieran was born in Cleveland, Ohio, in 1937. He received his B.S. in Metallurgy from Purdue University and his M.S. and Sc.D in Materials Science from the Massachusetts Institute of Technology. He joined Fairchild Semiconductor Research and Development in 1963, specializing in the analysis and characterization of single and polycrystalline semiconductor device materials, using x-rays and electron diffraction technology, and worked on many materials and reliability problems that impacted the emerging semiconductor industry. He invented many novel and new ways to analyze and evaluate silicon and gallium arsenide single crystals and brought into the industry many techniques now routinely used for materials analysis.
Gene joined Intel in 1973 as Manager of Package Development, responsible for developing new packages for emerging memory and microprocessors products. In 1985, he was appointed an Intel Fellow, the second in the company's history, and was named a Senior Fellow in 2003. He was inducted into the prestigious National Academy of Engineering in 2000. He has over 70 technical publications and has presented classes in x-ray diffraction at Stanford University, the University of California, Berkeley, Royal Fort (Bristol University), and the Technion, Haifa, Israel.
Gene started collecting minerals in 1949 in Norway, his father's homeland. He was one of four partners in the Sweet Home Mine, where our Alma Rose was found, and partnered with other collectors in mining ventures in Arizona, Pakistan, and Brazil.
For his work in mineral preservation and education, he was awarded the prestigious Carnegie Medal in 2004 and, in 2005, was named to the Gemological Institute of America's Hall of Fame. He also received the TGMS Award for his 20 years of working with the Tucson Gem and Mineral Society on presenting educational displays at their annual show. For ten years, he was President of the University of Arizona Mineral Museum (now the Alfie Norville Gem and Mineral Museum of the University of Arizona. He has donated specimens from his collection to the Rice Museum, the University of Arizona Museum, the Smithsonian, the Seaman Museum, the New Mexico University Museum, and others.