By Hannah Brodhagen
While on a rockhounding trip to southern Oregon and northern Nevada this past summer, my family and I took a side trip to visit the Rice Northwest Museum of Rocks and Minerals in Hillsboro, Oregon. The Rice Museum was founded by Richard and Helen Rice in 1997. Richard and Helen began collecting rocks in 1938 while on a trip to the coast of Oregon where they found jaspers and agates that they thought were pretty. After that, they joined rock clubs where they could go on field trips to find petrified wood, thundereggs, agates and other pretty rocks. Though at first Richard and Helen only had a collection of lapidary specimens, they later added mineral specimens, too. When they were in their 80s, the decision was made to turn their house into a museum and donate their specimens.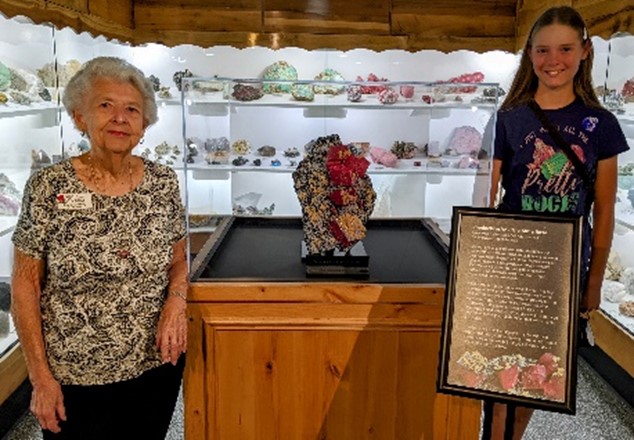 We were very fortunate to have Sharleen Rice Harvey, one of Richard and Helen's daughters, give us a tour of her parents' museum, which holds over 20,000 specimens. On the upper level, there is the hall display, featuring some minerals and information about them, as well as about Richard and Helen Rice. There is also the Rainbow Gallery, a dark room with amazing fluorescent minerals, shown in longwave, shortwave, and natural lighting. The Fossil Gallery holds dinosaur eggs, a fossilized baby Psittacosaurus, and many more neat fossils.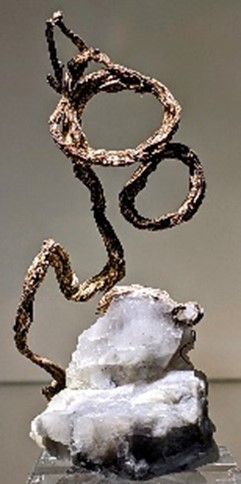 The Special Exhibitions on the upper level include over 50 native silver specimens from the collections of Gene Meieran, Jim and Gail Spann, and the Rice Museum. There are wire silver specimens, crystallized silver, and other silver-bearing minerals. I was very interested in this room because I think the silvers of Kongsberg, Norway and Saxony, Germany are really intriguing.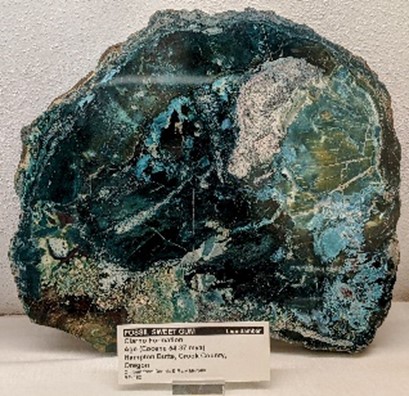 The lower level hosts Dennis and Mary Murphy's Petrified Wood Gallery, containing over 460 petrified wood specimens. Among the nation's best collection of petrified wood, this is truly an amazing gallery. It was so neat to see how each tree species had actually been identified and represented trees from around the world. I was also impressed by the large variety of colors of the petrified woods, including blues and greens which were quite different from the reds and yellows I am used to seeing in Arizona.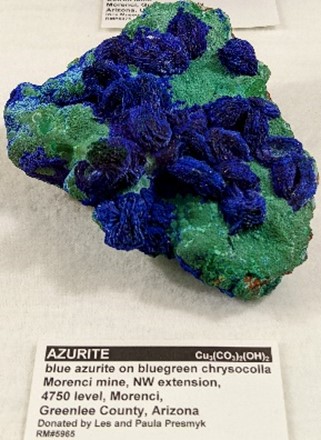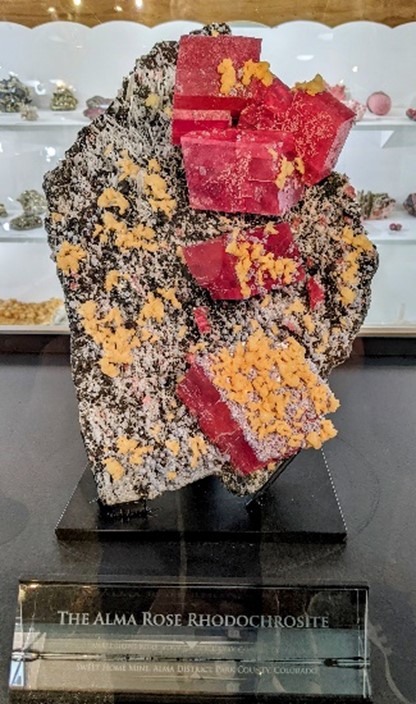 Also, on the lower level is the Main Gallery, which hosts over 4,000 specimens. Among diamonds, rubies, sapphires, and emeralds, sits the famous Alma Rose rhodochrosite from the Sweet Home Mine in Colorado. One of my favorite specimens of rhodochrosite, it is really beautiful and a must-see in person. Gold, copper, and more rare and unique minerals can be seen in that gallery, too, including a nice collection of azurites from Morenci, Arizona.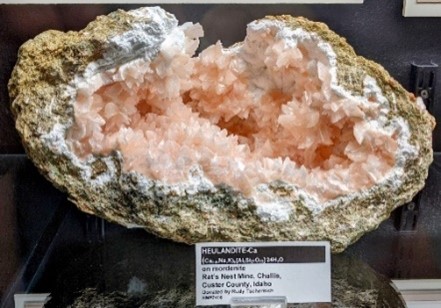 The Northwest Gallery is a separate building that used to be Richard Rice's workshop.  It features a thunderegg collection, the Tschernich zeolite collection, and many sunstones. I was surprised to see what good quality and variety of zeolites are found in the Pacific Northwest; I would like to return some day and do some collecting of these specimens. We finished our tour in about four hours, and I would not hesitate to go back. The Rice Northwest Museum of Rocks and Minerals is truly a remarkable place.
ABOUT HANNAH
I'm a junior member of the Mineralogical Society of Arizona, and I've been collecting minerals for 5 years since I was 8 ½. My favorite mineral is rhodochrosite. I also love Arizona minerals and minerals from Germany, where my mom was born. I am thrilled when I can self-collect minerals, and my family and I have dug at over 30 mines/localities in 6 different states so far. I also enjoy collecting gemstones, especially rare ones that match my mineral specimens, and I'm currently learning to facet gems. I entered competitive mineral exhibits at the 2022 Tucson Gem and Mineral Show and the 2022 Rocky Mountain Federation of Mineralogical Societies Show and received the best Junior trophy in both competitions. I love reading mineral publications. I am fascinated by mineral carvings and mineral photography. I hope to study gemology, mineralogy, geology, or mining engineering…I haven't decided which, as I'd like to do them all! My other hobbies are riding/showing Arabian horses, Junior Olympic archery, and designing hummingbird gardens.