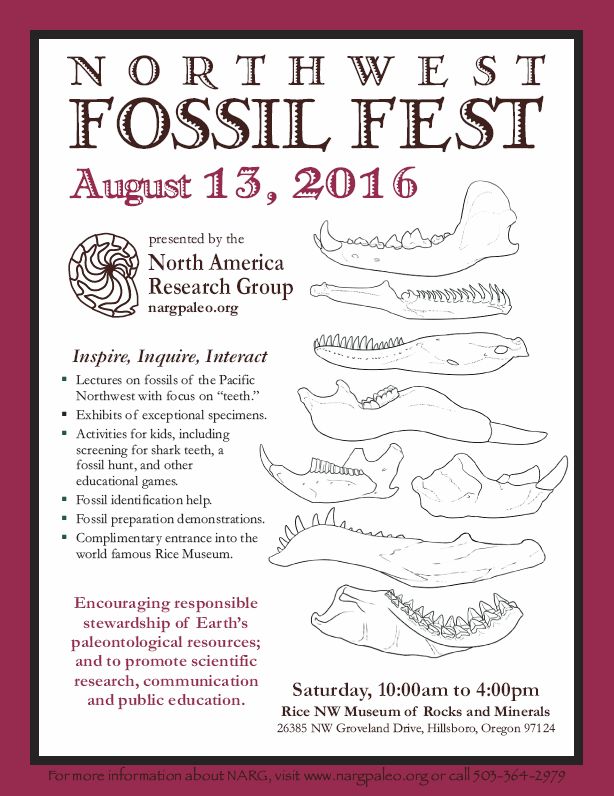 The Northwest Fossil Fest sponsored by the North America Research Group (NARG) will take place at the Rice Northwest Museum of Rocks and Minerals on Saturday, August 13, 2016, from 10 AM to 5 PM.
The Theme for the 11th Annual Northwest Fossil Fest Fossil Teeth!
The event is free for families to learn about fossils, fossil collecting, preparation, identification, hands on demonstrations, and educational displays. There will also be two great talks.  The first will be Dr. John Bershaw of the Geology Department at Portland State University. He will be talking about how he uses fossil teeth to measure changes in chemistry that tell us something about how the past environment changed.  Victor Perez of the University of Florida will present a talk entitled "The Giant Megalodon and what we know about it from Teeth."
Paleontologists will be on hand identify fossils and to show kids of all ages how to clean and prepare fossils.  There will be lots of hands on activities and this is a great event for families and fossil fans.  Attendance for the Fossil Fest includes free admission to the museum.
For more information and up-to-the-minute information see Northwest Fossil Fest.