Come to the Rice to connect with the natural world. Let us fuel your passion for Earth science. Get the details you need here to make the most of your day at the Museum.
Location
Located 25 minutes from downtown Portland, Oregon, on Highway 26 West at the Brookwood Parkway/Helvetia Road Exit. The museum features a main building, the Northwest Mineral Gallery, museum shop, and grounds.
To reach the Museum, take exit 61 (Helvetia Road/Brookwood Parkway) from Hwy 26. Head north on Helvetia Drive and take the first left onto Groveland Drive. The Museum is on the right at the end of Groveland Drive.

Rice Museum of Rocks and Minerals
26385 NW Groveland Drive
Hillsboro, OR 97124
There are no options for purchasing food or water onsite. Please visit one of our neighboring farm stores for food and water purchases.
Due to the historic nature of our buildings, there is limited accessibility.


Oversize and van-accessible parking spaces are available in our parking lot.

Entrances are not equipped with automated (push-button entry) doors. Certain exhibits have limited accessibility, due to their historic nature. Others may have variations in sensory levels for which guests may want to prepare.  A non-motorized wheelchair is available at no charge on a first-come, first-served basis. The Museum elevator located in the main building will accommodate standard size wheelchairs. Motor scooters and larger wheelchairs will not fit. The elevator has a maximum weight of 700 lbs. Elevator height: 75″ width: 31.5″ depth: 46.5″.
Museum grounds and trails have uneven surfaces. 
For more information please call 503-647-2418 or use our

Contact form
.
Price
Members: FREE


Adults: $12.00
Seniors (60+)/Veterans: $10.00
Students: $8.00
Children (up to 5 years): FREE
Access Programs
Museums for All: Receive a reduced rate admission of $3 per person when you present an Electronic Benefits Transfer (EBT) card and a valid form of photo ID. Rate is valid for up to four individuals per EBT card. Museums for All is a signature access program of the Association of Children's Museums (ACM) and the Institute of Museum and Library Services(IMLS).
Blue Star Museums: Free admission to active duty military, National Guard and Reserve military personnel and their families when they visit the Museum Armed Forces Day—Saturday, May 15, 2021 through Labor Day—Monday, September 6, 2021 with the presentation of a valid military id.
Hours
Reservations are suggested due to limited space.
| | |
| --- | --- |
| Monday - Wednesday | Closed |
| Thursday | 10:00 AM — 4:00 PM |
| Friday - Sunday | 10:00 AM — 5:00 PM |
Closures
Thanksgiving, Black Friday, Christmas Eve, Christmas Day, New Year's Eve, New Year's Day, Memorial Day, July 4, and Labor Day
Guided Experience
Are you a member of community group, senior group, or other group interested in learning about rocks, minerals, fossils, and earth science? Join us in a guided exploration of our collection. The program includes visiting our Northwest Gallery, learning about the family that founded our museum, exploring the Dennis and Mary Murphy Petrified Wood Gallery, seeing the famous "Alma Rose" rhodochrosite, and other colorful gems and minerals from around the world.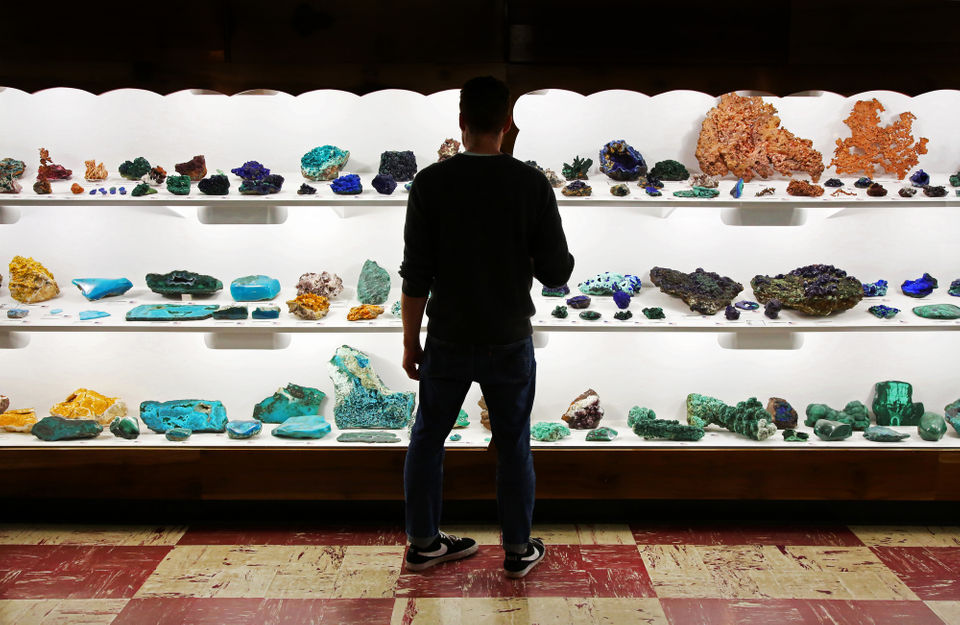 Museum Moment
Join museum staff and volunteers at 11:30 am and 3:00 pm. Each mini-tour lasts about 10-15 minutes. Locations vary from day to day. Ask a staff member on the day of your visit about the program location and topic for the day.
Self-guided Tours
Exhibits are marked with descriptive labels and information and museum staff and volunteers are available to answer questions. B
e sure to leave enough time to dig through the rock pile and stop at our museum shop before you leave.
Explore the Grounds
The Rice is more than just a building. Dozens of varieties of both domestic and wild flowers, shrubs, trees, mosses, and fungi can be found on our grounds. The Museum is nestled among huge fir trees in a beautiful landscape; the grounds are full of hidden treasures and surprises. If you're lucky, you may catch a glimpse of a hawk, owl or eagle soaring overhead, a wandering deer or coyote on the prowl, a hummingbird drinking from a flower or feeder, a bunny eating clover from the lawn, or frog or snake searching for a water hole. From towering trees to countless fungi and wildflower varieties, there's something here for every nature lover.
Have a picnic on our lawn or our picnic tables and dig through our rock pile to discover hidden treasures.
Make a day out of your visit.