The Rice Museum of Rocks and Minerals houses a world-class collection recognized as the finest in the Pacific Northwest and one of the best in the nation. Located just west of Portland, Oregon, in Hillsboro, the Museum showcases not only fine rocks and minerals, but also fossils, meteorites, lapidary art, and gemstones from both the Pacific Northwest and all around the world.
The Museum is listed in the National Register of Historic Places for its unique architectural style, natural stonework, and the extraordinary native Oregon woodwork found throughout the building.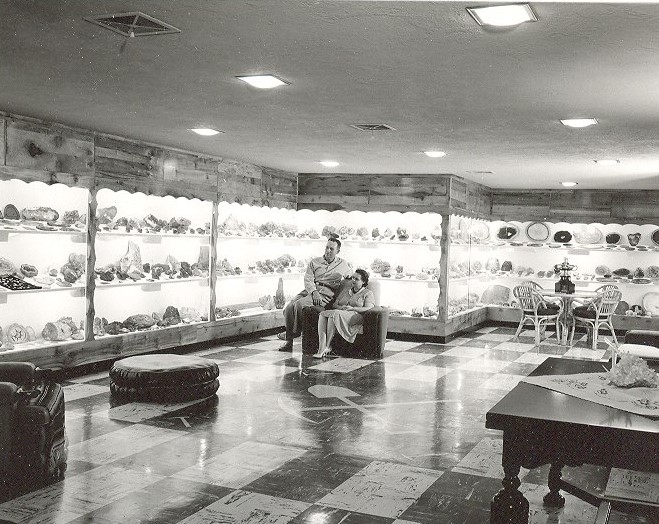 The Rice Museum's educational programs include on-site tours for schools and other groups as well as off-site Portable Earth Science Programs that bring the museum to the community. We also host a variety of public and private events throughout the year.
The building was originally constructed by Richard and Helen Rice as their family home in 1952. Richard Rice, a logger by profession, incorporated many rare Oregon woods, such as myrtle wood and quilted maple, in the fabrication of the house. 
The basement gallery is original to the house and built to display the Rice's personal mineral collection. In 1997, the entire building was converted to a 501(c) 3 public museum. 
For more information on the Rice Family, see our history. 
Mission 
To engage, inspire, and educate on the wonder and complexity of our earth.
Vision
Transformational earth and planetary science museum providing innovative and compelling content and engaging educational experiences relevant to the world in which we live.
Pledge of Excellence 
The Rice Museum has taken the American Alliance of Museums Pledge of Excellence as a way to show our commitment to good stewardship of the resources we hold in public trust.  
The museum pledges that, in fulfillment of its educational mission, it will strive to operate according to core standards to the best of its abilities and in accordance with its resources.