The Rice Northwest Museum of Rocks and Minerals is home to many fascinating and beautiful galleries and displays. These galleries and displays cover an extremely wide range of geologic wonders, such as Northwest specimens like thundereggs and sunstones and a vast collection of rocks, minerals, and gems that includes gold, emeralds, rubies, diamonds, sapphires and the famous "Alma Rose" rhodochrosite from Colorado.
For help on visiting the museum's many exhibits and gallery spaces, we've created a special Visit guide.
The Master Gallery Exhibits
The Rice Museum Main Gallery contains one of the world's finest collections of crystals from worldwide localities. Over 4,000 individual items are on view from a working collection of over 20,000 specimens. See the famous "Alma Rose" rhodochrosite from Colorado, South

American emeralds, colorful copper minerals, crystals of gold, silver, diamonds, rubies, sapphires and thousands more! Rare and unusual minerals such as benitoite, paravauxite, legrandite, papagoite, and many others are also on display.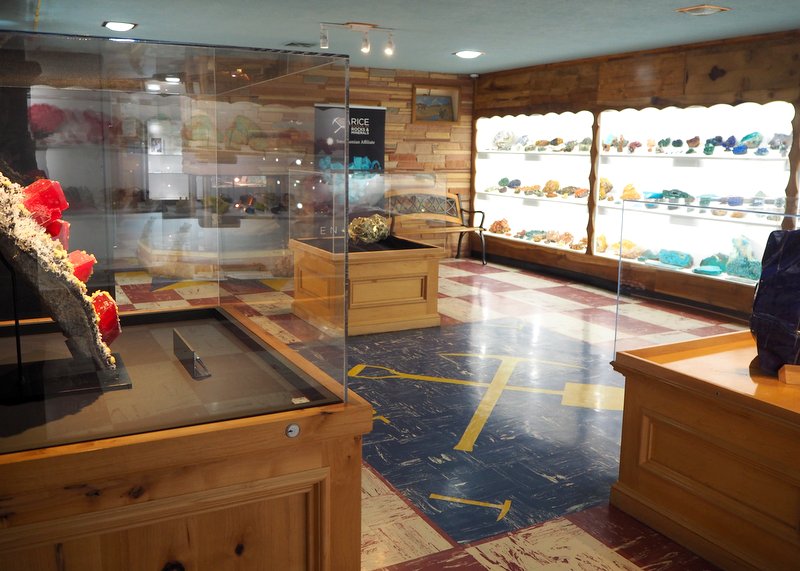 Pacific Northwest Gallery
Visit the Rudy Tschernich Northwest
Mineral Gallery where the Pacific Northwest mineral heritage is
preserved. The gallery features the Rudy Tschernich zeolite collection, a
large section of thundereggs (Oregon's State Rock) and sunstones
(Oregon's State Gemstone). Enjoy the best from the Northwest, including
outstanding crystals and lapidary specimens and an interactive map
showing rock and mineral localities from the Pacific Northwest. See the
largest "opal-filled" thunderegg in the world! Guest exhibits by
regional collectors always display something new.
Dennis and Mary Murphy Petrified Wood Gallery
This astonishing petrified wood collection contains over 460 worldwide specimens collected by Dennis and Mary Murphy over 40 years. The variety of colors, species and localities make this among the nation's finest exhibits of petrified wood. The walls are lined with cases of cross-cut slices, full rounds, and tall tree trunks of petrified wood. In addition, kids and adults alike will enjoy listening to our Talking Log Audible Exhibit that explains the process of turning wood to stone over millions of years.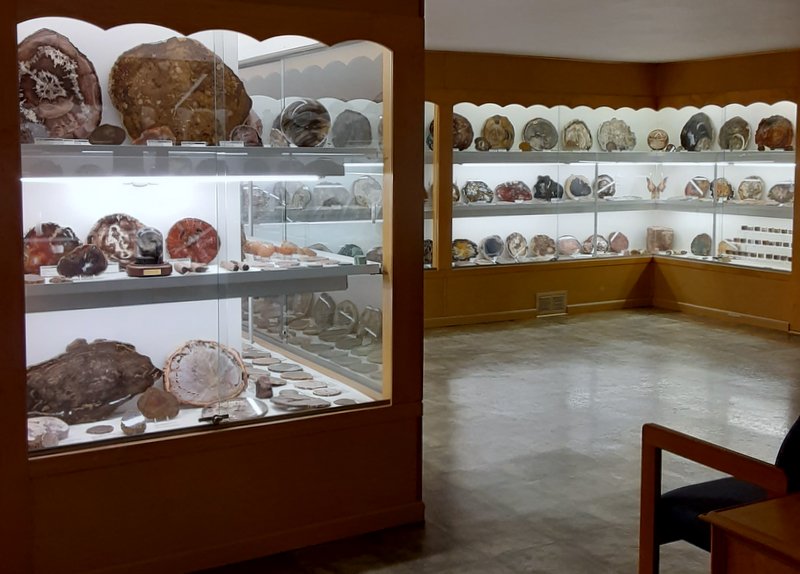 Rainbow Gallery
Our "Rainbow Gallery" of natural minerals emits brilliant colors when energized with ultraviolet "black" light. This gallery is always one of the favorite sights to see at the Rice Museum. Watch as both shortwave and longwave fluorescent lighting is shown upon what appears to be relatively colorless stones… the rocks will reveal bright, beautiful colors. This is caused by minerals contained in the rocks that react to UV lighting.
Fossil Gallery
The Fossil Gallery is full of mysterious things from the distant past. Ever wanted to see a full dinosaur skeleton up close? How about some fossilized dino-dung? From ammonites and trilobites to mammoth tusks, to dinosaur eggs; you'll get a heavy dose of deep history (prehistory, in fact!) when you visit this awesome display. The Fossil Gallery features "Tucker", a three-dimensional baby psittacosaurus dinosaur. Learn about fossils and trace fossils, dinosaur eggs, and see prehistoric relics of land, air and sea creatures from the Northwest and around the globe. Touch and identify fossils, rocks and minerals on an interactive table – test your geologic knowledge!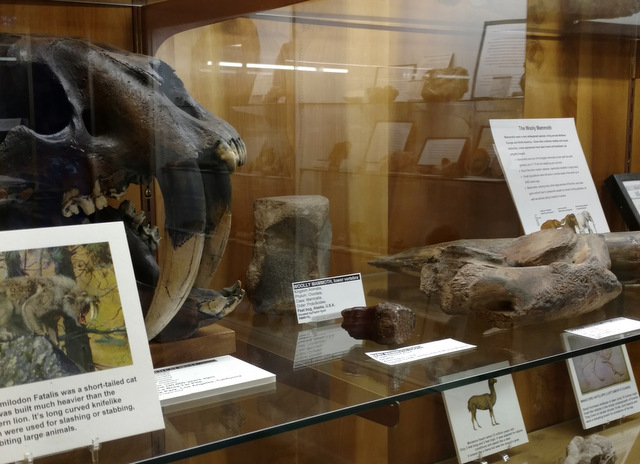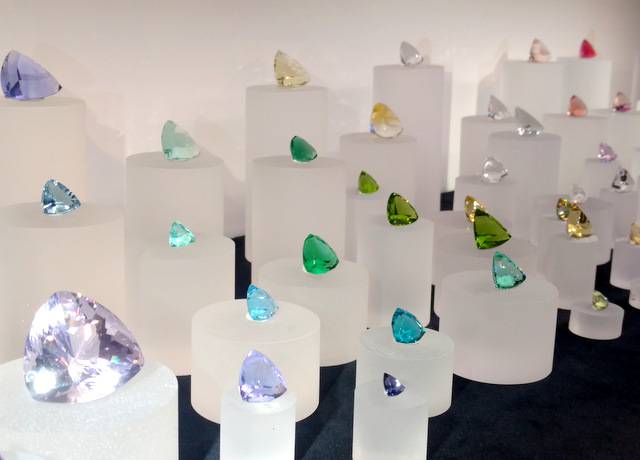 ---
Lapidary Arts Gallery
See cut and polished works of art,

s

parkling gemstones and ornate, one-of-a-kind carvings. What's your birthstone? The Lapidary Arts Gallery is the section of the museum with the most sparkles. Here you will find treasured jewels from all around the world, including rubies, sapphires, diamonds, and emeralds.Take a moment to find your birthstone or catch a glimpse of our skillfully carved Oregon opal, etched with an image of Mt. Hood.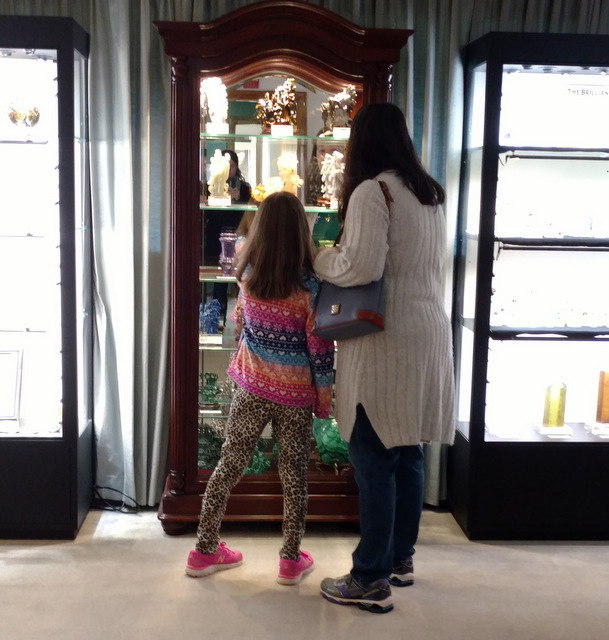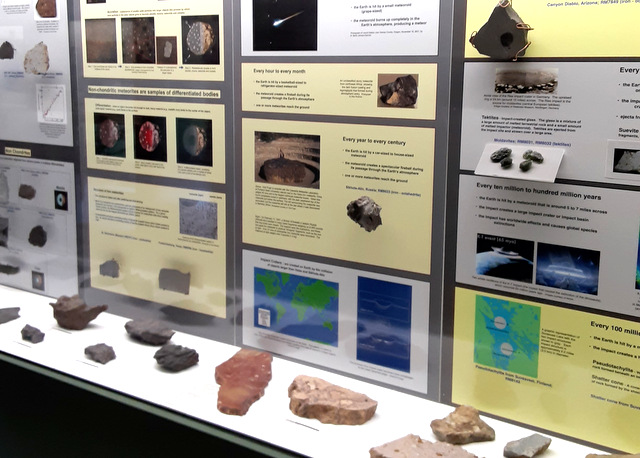 Meteorite Display
Come see our "out of this world" Meteorite display, prepared and presented by the Rice Museum with the assistance of the Cascadia Meteorite Laboratory of Portland State University and updated by the Museum in 2014. This display is full of amazing facts and specimens. There are several great pieces of space matter on display, including iron and stone meteorites. You'll have a chance to touch our amazing Gibeon Meteorite from Africa (so much iron in it, it feels cold to the touch!), and learn all about these intriguing, permanent "visitors from space".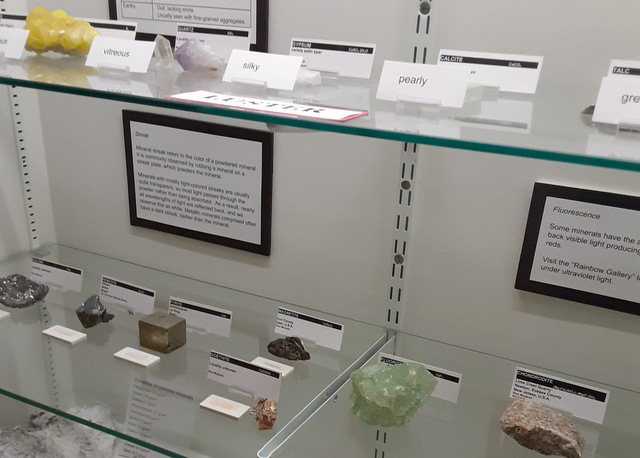 Mineralogy Gallery
"If it isn't dug, it's grown." Enjoy education in the form of crystal growth and shapes, the hardness scale; learn how and why we reproduce minerals. See how minerals affect our daily lives with

unimaginable uses, such as our homes, roads, food, transportation, electronics, toys, medicines, even our toothpaste.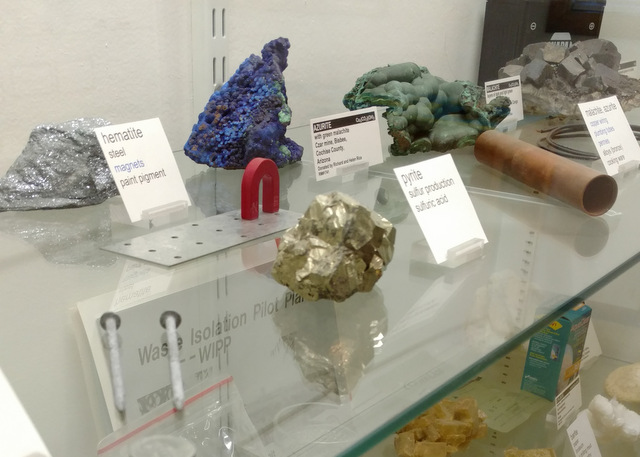 Agate Gallery
Enjoy unique agates from classic localities in Brazil, Mexico, Argentina, and specimens from other worldwide locations. Learn how to spot the difference between a naturally colored and synthetically colored (dyed) agate. Learn everything you'd ever want to know about those semi-transparent stones you've been collecting from random beach and/or roadside locations all your life.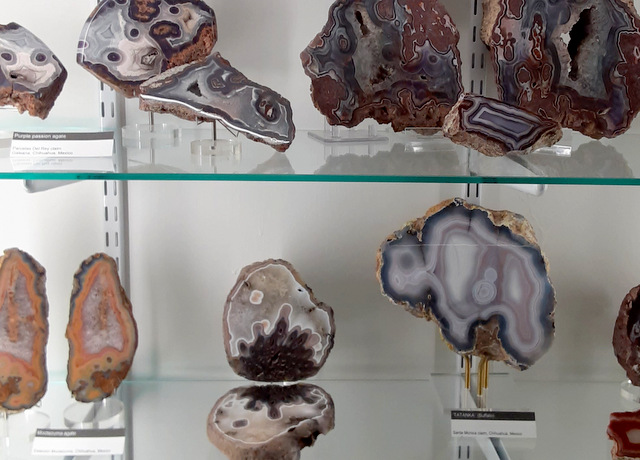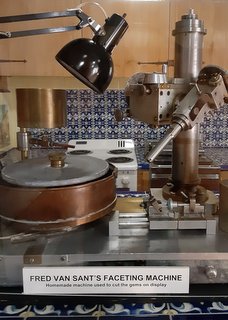 Fred Van Sant Faceting Display
Fred Van Sant was a man of many talents and surprises. Not only was he one of the world's finest and most creative gem faceters, he was a poet, a musician, and an original, deep thinker on many subjects, especially regarding his philosophy on how man thought, and man's purpose in the world. Visit the Museum to see a beautiful display of dozens of Fred's faceted stones, as well as his original faceting machine.