Meteorite Day at the Museum May 23, 2015 Visit us at the Rice NW Museum on Saturday, May 23, for our annual Meteorite Day. There will be guest lectures and special events for the family all day.
Scientific American reports that life began on meteorites. Well, actually the ingredients necessary to start the building blocks of life on this planet did.
The molecules that kick-started life on primordial Earth could have been made in space and delivered by meteorites, according to researchers in Italy. The group synthesised sugars, amino acids and nucleobases with nothing more than formamide, meteorite material and the power of a simulated solar wind, replicating a process they believe cooked up a prebiotic soup long before life existed on Earth.

Formamide is a simple organic compound first suggested as a starting material for the formation of prebiotic biomolecules back in 2001. The chemical has been detected in galactic centres and stellar nurseries, as well as comets and satellites. These latest experiments show that formamide, irradiated by the solar wind…and in the presence of powdered meteorites, gave rise to amino acids, carboxylic acids, sugars and nucleosides—the building blocks of DNA and RNA.
The scientists speculate that this could mean that life formed on other planets might share similarities with the life formed on earth.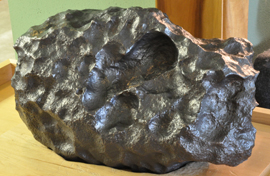 The Rice Northwest Museum of Rocks and Minerals features many meteorites on exhibit discovered all around the world from Russia, Argentina, Namibia, the United States, and Australia. The extensive meteorite exhibit was put together by the Cascadia Meteorite Laboratory from the Geology Department of Portland State University.
Take a moment as you enter the main gallery area near the entrance to run your fingers across the large Gibeon meteorite found in Africa for a bone chilling sensation. Made mostly of iron, touch it and know that you've actually touched space metal and maybe even the ingredients to life on this planet.
Related Articles