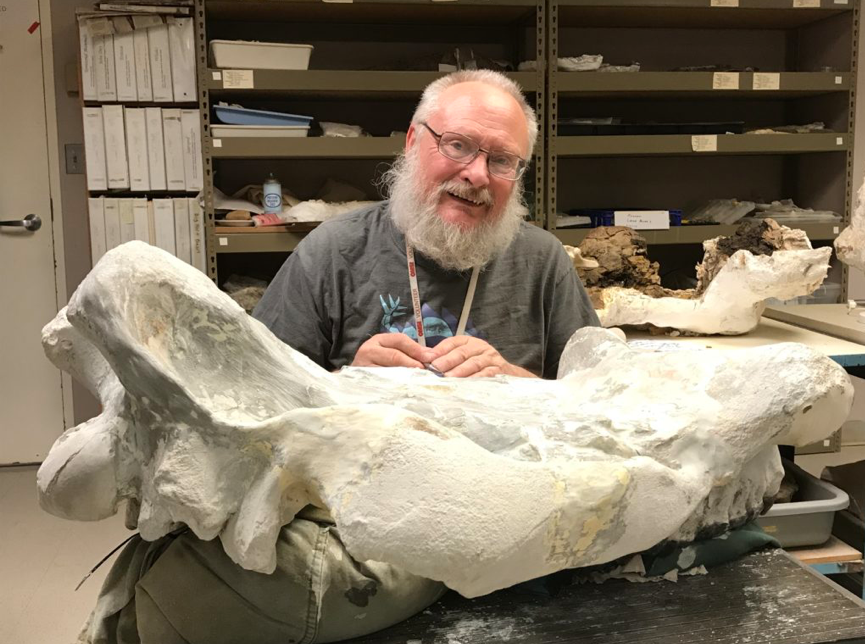 Join us on Wednesday, October 14 for a live on-line discussion with local amateur paleontologist Greg Carr. Carr is a long-time volunteer with the Rice Museum and a member of the North American Research Group (NARG), a club of amateur paleontologists who scour sedimentary rocks across the western U.S. for fossil remains. A fossil preparation expert, Carr will give a tour of his home lab and talk through the process of how to carefully remove rock to expose the fossil within.
Greg and his daughter Gloria discovered Bernie the Thalattosaur, an ancient sea-going reptile, in 2011 in a roadcut in central Oregon. Carr worked carefully over 6 1/2 years to prepare the specimen, using many of the same tools you'll see in this demonstration. He then used a 3D scanner and 3D printer to produce a life-size replica of Bernie's skeleton, which now hangs from the rafters of the Rice Museum of Rocks and Minerals.
Carr has also loaned numerous fossils to the museum, designed, built, and donated hands-on displays, and volunteered as a fossil preparator and consultant, recently including the conservation and display of a huge brontothere skull, and a delicate crinoid fossil plate. He can frequently be found at the Museum's "Mystery Mineral Day" events identifying potential fossils brought in by visitors.
This event is FREE but registration is required to receive login information.
Date & Time

Wednesday, Oct 14, 2020 12:00 PM – 1:00 PM

A LIMITED NUMBER OF RESERVATIONS ARE AVAILABLE 
The Rice Museum will offer additional content throughout the day on our Youtube channel and across our social media accounts. Follow us on Facebook and Instagram.